The Annunaki "Those Of Royal Blood" are believed to be immortal gods that inhabited the earth during the ancient Sumerian time in Mesopotamia.
The Sumerian civilisation developed on the Persian Gulf, growing to strength at around 4 – 3,000 B.C. The 'Plain of the Land of Shinar' is the territory which after 2,000 B.C. became called Babylon. The Greeks named the region Mesopotamia (The land between two rivers), most of which lies in the modern state of Iraq.
The first recorded civilization of mankind and they were advanced with currency, astronomy and farming.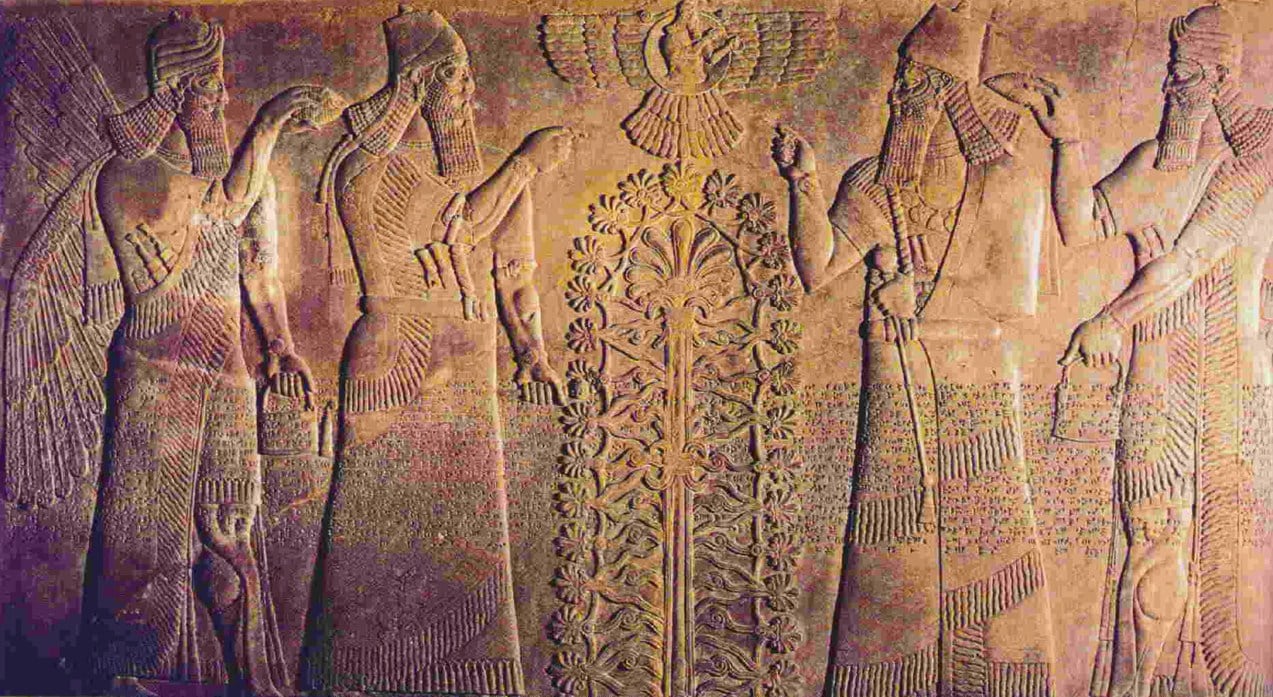 The original homeland of the Sumerians is also unknown. – They entered Mesopotamia around 4,000 B.C.
The Sumerians are amongst the first people to leave sophisticated records of their astronomical observations.
Their fascination with the heavens is apparent in the large number of seals and cuneiform tablets unearthed of an astronomical nature. The Sumerians were the first to divide both space and time by units of six. The modern division of the year into 12 months, the 24 hours of each day, the division of hours into 60 minutes and 60 seconds, and the divisions of the circle/sphere by 360 degrees, each composed of 60 minutes and 60 seconds of an arc, are all Sumerian developments.
This same division by units of six has been observed at several of prominent British megaliths.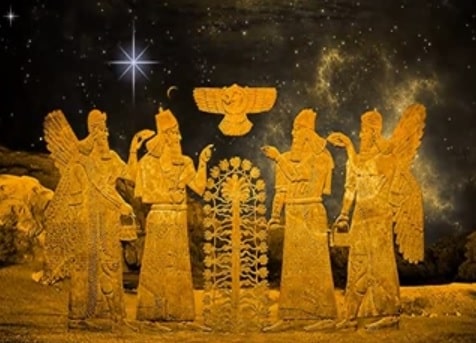 The Sumerians were also aware of the importance of Pleiades, showing it in several seals and images.
In addition to being thought of as the seven great gods gathered together, the morning setting of Pleiades was used to mark the beginning and end of the agricultural year. This cylinder seal (VA/243 -State Museum, East Berlin), shows a 'star' with several (eleven) planets surrounding it. However, as there are no known records of the Sumerians having knowledge of any more than five planets in our solar-system the jury's out over what it represents.
These beings were not from this world and had a special bloodline.
The Nephilim, offspring from the Annunaki and human beings, were on the earth in those days.
"The Nephilim were on the earth in those days- and also afterward – when the sons of God went to the daughters of men and had children by them. They were the heros of old, men of renown." -. Genesis 6:4
Zecharia Sitchin believes that the Annunaki genetically engineered modern day humans by crossbreeding with homo erectus. They did this to use humans as a slave race in order to mine gold from the earth.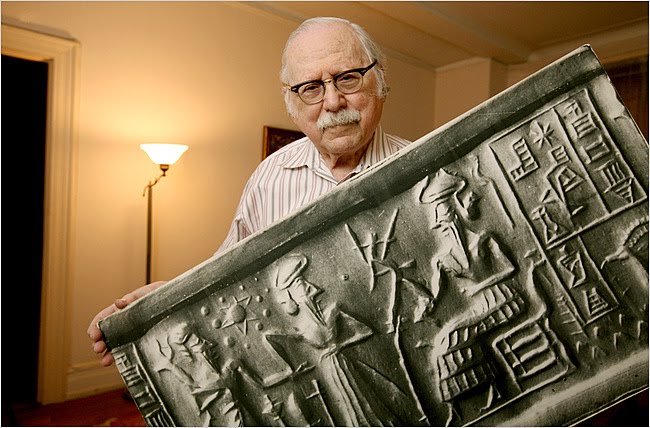 According to Sitchin's interpretation of Sumerian cosmology, there is a hypothetical planet which follows a long, elliptical orbit, reaching the inner solar system roughly every 3,600 years.
This planet is called Nibiru (the planet associated with Marduk in Babylonian cosmology).
Nibiru collided catastrophically with Tiamat, another hypothetical planet that was between Mars and Jupiter.The collision formed the planet Earth, the asteroid belt, and the comets.
Tiamat, as outlined in the Enûma Elish, is a goddess. According to Sitchin, however, Tiamat may have been what we now know as Earth. When struck by one of planet Nibiru's moons, Tiamat split in two.
On a second pass Nibiru itself struck the broken fragments and one half of Tiamat became the asteroid belt. The second half, struck again by one of Nibiru's moons, was pushed into a new orbit and became today's planet Earth. This scenario is scientifically disputed.However, Sitchin's supporters maintain it would explain Earth's peculiar early geography due to cleaving from the celestial collision—i.e. solid continents on one side and a giant ocean on the other —and would also explain why the Earth is layered in sediments.
According to Sitchin, Nibiru was the home of a technologically advanced human-like extraterrestrial race (called the Anunnaki in Sumerian myth) who were called the Nephilim in the Bible.
He claims they first arrived on Earth probably 450,000 years ago, looking for minerals, especially gold, which they found and mined in Africa. These "gods" of the Anunnaki were the rank and file workers of the colonial expedition to earth from planet Nibiru.
Are Humans A Genetically Engineered Slave Race?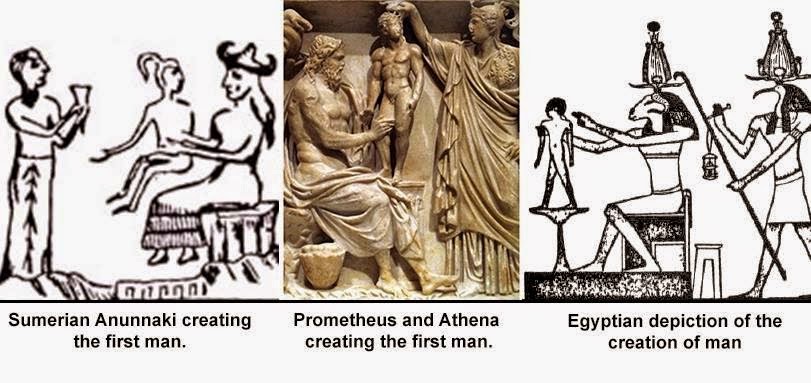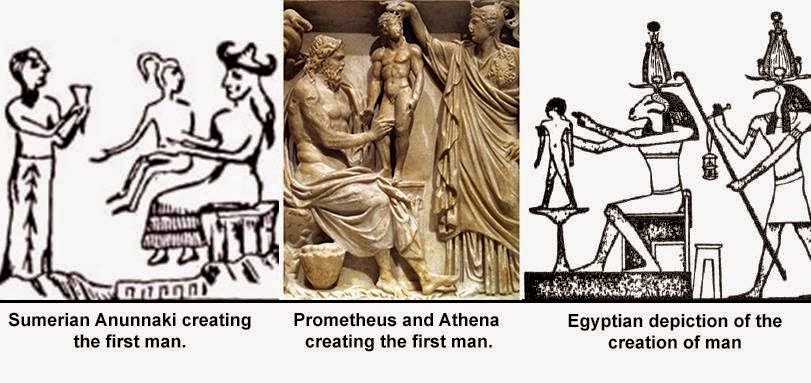 Sitchin believes the Anunnaki genetically engineered Homo sapiens as slave creatures to work their gold mines by crossing extraterrestrial genes with those of the Homo erectus.
Sitchin claims ancient inscriptions report that human civilization in Sumer of Mesopotamia was set up under the guidance of these "gods", and human kingship was inaugurated to serve as an intermediary between the Anunnaki and mankind. Sitchin believes that fallout from nuclear weapons used during a war between factions of the extraterrestrials is the "evil wind" that destroyed Ur around 2000 BC (Sitchin himself claims the exact year is 2024 BC), as recorded in the Lament for Ur.
Sitchin claims that his research coincides with many biblical texts, and that the biblical texts come originally from the Sumerian writings of their history.
Source: https://www.annunaki.org/
Let me know what you think in the comments below, Thanks for watching. ☑ Subscribe https://goo.gl/Mj05m6 & Smash that Bell Icon to stay informed! MUST WATCH! NEW VIDEO HERE: https://goo.gl/FqMslm
watch next…
υғo ѕιɢнтιɴɢѕ: https://goo.gl/UF6qPE | ᴜғᴏ ᴅᴏᴄᴜᴍᴇɴᴛᴀʀɪᴇs: https://goo.gl/1X2ruu
ᴀɴᴄɪᴇɴᴛ ᴀʟɪᴇɴs: https://goo.gl/wdFXGG | ᴀʟɪᴇɴ ᴀʙᴅᴜᴄᴛɪᴏɴs: https://goo.gl/u31NrR
ɴᴇᴡѕ & ᴘᴏʟιтιᴄѕ: https://goo.gl/BnrtZH | sᴛʀᴀɴɢᴇ ᴍʏsᴛᴇʀɪᴇs: https://goo.gl/o31j9K
Any ideas or videos you would like to see or share? Please do get in touch or simply leave in a comment below.
ʏᴏᴜ ᴄᴀɴ ᴀʟsᴏ ғɪɴᴅ ᴜs @:
☑WEBSITE: http://uforbs.com/
☑Vimeo | https://vimeo.com/uforbs
☑Instagram | https://www.instagram.com/uforbs/
☑Twitter | https://twitter.com/_UFOrbs
☑Facebook | https://www.facebook.com/UFOrbs
☑Linkedin | https://www.linkedin.com/in/uforbs
☑Tumblr | http://uforbs.tumblr.com/
☑Pinterest | https://uk.pinterest.com/uforbs/
☑YouTube Channel: https://goo.gl/w8pLaT
Education on the controversial subject of UFO's is fundamental for our race. Now becoming increasingly more accessible and convenient for UFO witnesses and UFO enthusiasts worldwide to communicate and share lessons and experiences.
With the Latest UFO News in 2017, 2018. UFO Footage & Sightings from around the globe. This information is educational and very bizarre at times. No offence or opinions made are in no way made to intentionally offend anyone. Having said that please know in some videos we are addressing controversial topics. Keep an open mind.
UFOrbs Disclosure Network is for Educational Research, Reporting & sharing information. If any copyright infringements have been unintentionally made, please do contact us direct, We will Respond and resolve the matter quick and efficiently. This Video is Licensed under Creative Commons: By Attribution 3.0. https://creativecommons.org
UFORBS | JOIN THE SEARCH
☑Latest videos: https://goo.gl/FqMslm
☑Most Popular Upload: https://goo.gl/tGHdyT
☑YouTube Channel: https://goo.gl/w8pLaT